Do you know of an event that should be listed here? Help contribute to the beast...Click here to submit an event.



Displaying 1 - 10 of 964 Events...








A$ton Matthews + Joey Fatts (Cutthroat boyz) Live @ Los Globos (Silver Lake) 19+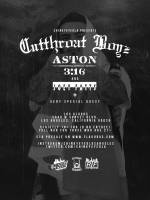 SATURDAY JUNE 14th Presale Ticket Link: http://vor.us/8ebb2 JOEY FATTS (https://www.facebook.com/JoeyFatts700) (http://instagram.com/JOEYFATTS) (https://twitter.com/JOEYFATTS) A$TON MATTHEWS (https://www.facebook.com/aston562) (http://instagram.com/BRICKFLAIR) (https://twitter.com/ASTON_MATTHEWS) Supporting Acts TREW UNO (#SBH) (https://twitter.com/thetrewuno) (http://instagram.com/thetrewuno) Lashaun Ellis (https://twitter.com/lashaunellis) (https://soundcloud.com/lashaunellis) (http://instagram.com/lashaunellis) 21+ Expected (Full Bar) This is a strictly 18 and over show Must ha...

[ Read More... ]



"BRING YOUR BLACK BOOK 5"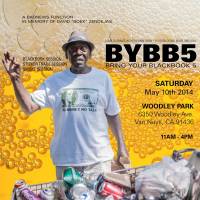 COME CELEBRATE WITH THE BNW CREW 15 YEARS OF BAD NEWS * 1999-2014 the 5th annual "BRING YOUR BLACK BOOK 5" BLACK BOOK SESSION STICKER TRADE SESSION SMOKE SESSION SATURDAY , MAY 10th ...11AM FREE , ALL-AGES WOODLY PARK 6350 Woodley Ave, Van Nuys, Ca. 91436 first 50 books, are getting smothered in stickers

[ Read More... ]



THE CYPHER ROUND 3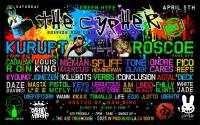 GREEN HYPE x GHETTOFRESH CLOTHING PRESENTS: THE CYPHER ROUND 3 HEADLINING KURUPTOF THA DOGG POUND!!!!! ALSO, LIVE GRAFFITI ART, CANVASES, & LIVE PERFORMANCES FROM : ROSCOE(DPG) CADALACK RON,VERBS, SPLIFF HEMINGWAY, DECK, JONEZEN, ASTAL, LOUIS KING, K-YOUNG & MANY MORE!!!!!! APRIL 5TH @ THE TREE HOUSE 5025 W. PICO BLVD. LOS ANGELES TICKETS AVAILABLE @ THE HUNDREDS STORE : 416 Broadway, Santa Monica, California 90401 Phone:(424) 268-3905

[ Read More... ]



Writers Bench with KING CRE8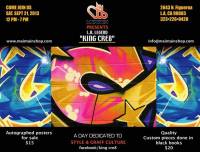 Join us for our next Maintain writers bench with special guess KING CRE8. CRE* will be selling and signing posters as well as offering tips and tricks you can use to sharpen your black book skills. Bring your black books, stickers and drawing supplies, trade share, meet and greet other writers. Location: MAINTAIN 2643 N. Figueroa, L.A. CA. 90065 Time: 12pm-7pm Cost: FREE Vibe: Chill

[ Read More... ]



"A Piece of Panic" -a blackbook event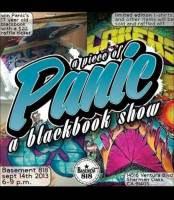 Saturday the 14th @basement_818 in Van Nuys you could win Panic's OG blackbook. 17 years old and full of burners. Other items will be sold and raffled off including limited edition Panic shirts. Basement 818 14516 Ventura Blvd. Sherman Oaks, Ca. 91403

[ Read More... ]



SB Battle For Los Angeles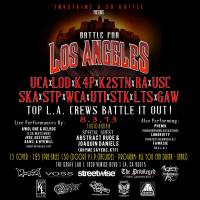 SB BATTLE Inkstainz and SB Battle Presents THE BATTLE FOR LOS ANGELES "DON'T MISS THIS ONE, ITS GOING TO LEGENDARY" BESK – UCA/LOD FOR IMMEDIATE RELEASE Los Angeles, CA (July 26, 2013) – Inkstainz and SB Battle are proud to present THE BATTLE FOR LOS ANGELES, a graffiti crew battle taking place August 3rd, 2013 at The Graff Lab located at 1038 Venice Blvd in Los Angeles. THE BATTLE FOR LOS ANGELES will allow 13 of LA's top legendary graffiti crews to battle under the same roof for a chance to win a $1000 cash prize and bragging rights. The objective for this Graffiti battle will fo...

[ Read More... ]



Out of the Hat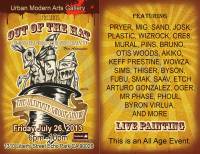 Urban Modern Arts Gallery presents Out Of The Hat, the wonderful world of the urban character. A Group Art exhibition that showcases the many styles of cartoon imagery in today's popular street and urban Art culture. With a vast array of talent there will be music and live painting by most of the exhibiting artists. Artists include: PRYER, MIG. SAND, JOSK, PLASTIC, WIZROCK, BRUNO, MURAL, PINS, CRE8, OTIS WOODS, AKIKO, KEFF PRESTINE, WOWZA, SIMS, THISER, BYSON, FUBU, SMAK, ARTURO GONZALEZ, SAAV, OGER, ETCH, MR PHASE, PHOUL, BYRON VIRLUA, AND MORE FRIDAY JULY 26TH 2013 URBAN MODERN ARTS GALL...

[ Read More... ]



BOOM! "All Day Everyday"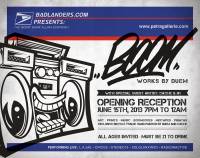 Badlanders.com Presents: Boom! Works By: DUEM with special guest artist: Cache & N1. Performing Live: L.A.Jae, Stero13, Xolonxinco, Radioinactive. Opening Reception June 15, 2013. 7pm to 12am. All ages Petra Gallerie 1151 S. Robertson Blvd. Los Angeles, Ca. 90035

[ Read More... ]



"BRING YOUR BLACK BOOK 4"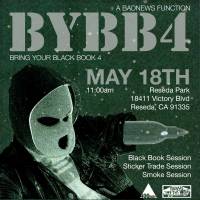 BLACK BOOK SESSION STICKER TRADE SESSION SMOKE SESSION Saturday, MAY 18th 11 AM... Reseda Park 18411 Victory Blvd. Reseda, CA 91335 FREE ...ALL-AGES

[ Read More... ]



GFL LA ART EXPO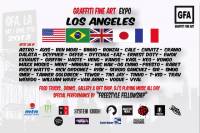 Come out and see some of the best graffiti writers in the world. This isn't just a normal canvas show but a Expo of huge incredible installations. 5 Different countries being represented under one roof. Event: Graffiti Fine Art Expo Date: April 27, 2013 Place: 310 N.Westmoreland Ave Los Angeles, Ca 90004 Music: Dj Gazoo, Dj Rafa, Trek, Freestyle Fellowship Price:$10.00 per person https://www.facebook.com/pages/GFA-Los-Angeles/280380845426698 https://www.facebook.com/Dytch66

[ Read More... ]




50mm poll...

What is more important to the longevity of graffiti?